The leadership of the Latino Democratic Club comprises four executive officers, President, Vice President, Secretary & Treasurer; and eleven directors. The 2019-2021 leadership was duly elected on Wednesday, March 20, by the general membership. Each executive officer and director serves a two-year term.
Current Leadership:
Luisa Maria Arevalo, President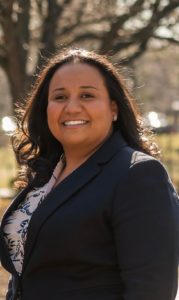 Luisa Arévalo was born and raised in San Salvador, El Salvador. She emigrated to the United States in 2001. Luisa is a former ESOL student. She graduated from Wheaton High School, attended Montgomery College, Rockville Campus and graduated with the a Bachelors Degree in Political Science from the University of Maryland Baltimore County (UMBC). Later she earned a Masters in International Relations and African Studies from La Universidad Autónoma de Madrid in Spain. Luisa got involved with the Latino Democratic Club in 2014 as part of the Board of Directors. She is currently serving her second term as President. She is a former Member of the Montgomery County Central committee where she served as the Assistant Treasurer. She is currently a member of the Latin American Advisory Board to the Montgomery County Executive. Luisa is passionate about serving the Latino Community and giving people a voice.